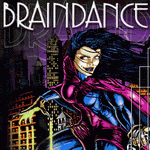 SHORT OFFICIAL BIO

Originally conceived as a studio project, BRAINDANCE have since built an incredible following globally with their truly unique concept and vision. Their first two independent, self-released albums, Shadows and Fear Itself, have been critically acclaimed world-wide, their respective singles appearing frequently on countless domestic and international radio stations, compilation recordings, soundtracks and web sites. Four years after its release, Fear Itself still consistently sells out of all major downtown NYC record stores, is a best seller among countless independent distributors, and is consumed hungrily by the thousands of concert-goers who have been so fortunate to attend the blinding live performances of BRAINDANCE. Performing regularly and consistently headlining, BRAINDANCE has amazed the most demanding of audiences world-wide with their trademark musicianship, songwriting, and theatricality.

Their upcoming release, Redemption, currently in production, promises to bring their unique vision to a staggering new level.

More information about the band will be available as soon as possible!